TAX-AID.COM ONLINE TAX HELP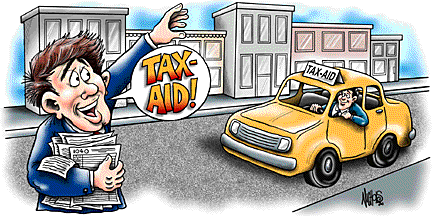 (You pay only if you choose to file or print a completed return.)
1040EZ is Free, 1040A is $19.95, 1040 is $39.95 (includes all
necessary attachments), plus $29.95 for as many state returns as needed.


Charles D. Ladd, CPA
827 Bradley Drive, Hudson, WI 54016 USA
715-386-6743 (local calls only)
---
"Quick-click access" to current (2011) individual income tax forms and instructions.

Current status of your refund(s):

Secure and affordable online income tax preparation with e-file capability, for federal and all states.

(Click on the green button above)
The software is provided and guaranteed by Drake Software, in business since 1977, currently with over 300 employees and
over 30,000 professional clients nationwide.

---

Pay Invoice for Tax Service (NOT to be used for the online link above) using PayPal
using a credit or debit card or bank withdrawal, (by making payment to "ChasLadd@Tax-Aid.com")
This website is hosted by Startlogic


The URL of this page is http://www.tax-aid.com/index.html
(last modified March 11, 2012)
Logo and banner by Kevin Nichols. Thanks, Kevin!

Copyright © 1996-2012

Charles D. Ladd, CPA

827 Bradley Drive, Hudson, WI 54016 USA
715-386-6743 (local calls only)